The Best Lawn & Yard Care Service
Commercial & Residential
Lawn Care Program with Option of Grub Control
After many years of lawn service, we've had best results by applying five applications evenly spaced throughout the growing season.
Learn more about our Lawn Care Program
Aeration
If there was ever a secret ingredient for making your lawn healthy, it would have to be aeration.
Bush Trimming
If you would like your bushes trimmed and maintained but just don't have the time (or patience), we can make them beautiful for you.
Let us tackle those bushes for you
Fertilizing
For most people, there is nothing more confusing than fertilizing when it comes to lawn care. Fertilizing is absolutely essential to have a healthy, thick, and green lawn.
Learn more about Fertilizing your lawn
Grub Control
These lawn destroying pests are hiding just below the surface and waiting to ruin your beautiful yard. When you have grubs you need help.
Lawn Mowing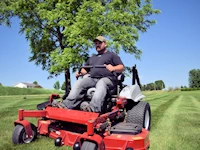 Everyone wants a beautiful well manicured lawn, but few have the time to keep it that way. Mowing your lawn is one of the most important things you can do to keep it healthy and growing.
Learn more about our mowing services
Mulching
Mulching material is placed on the soil surface around trees, bushes, and walkways to hold moisture, retard weed growth, and improve soil conditions.
Over Seeding
When your lawn is looking patchy and has some thin spots, overseeding may be just what you need to bring it back from the brink.
Top Dressing
Top dressing or organic lawn dressing is the difference between your lawn built on dead soil and living soil. We believe living soil is better.
Weed Control Services
If weeds are rampant in your yard just give us a call for a free estimate on Weed Control.
Lawn & Yard Service Areas

Des Moines Metro Area
We provide the best lawn and yard care service to the great Des Moines Metro area. Some of the best yards and lawns we care and service for are found below. If your community isn't listed we would love to include it, so give us a call at (515) 402-3828
View Our Service Areas