The Best Aeration Services
Now with Option of Overseeding
If there was ever a secret ingredient for making your lawn healthy, it would have to be aeration. Aerating your lawn gets much needed oxygen to the roots and allows your lawn to "breathe." It also increases nutrient and fertilizer absorption by giving it access to the roots.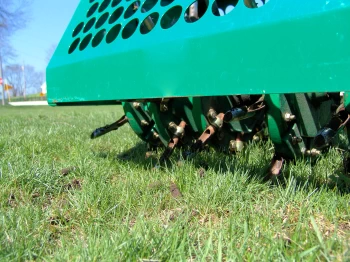 Sutter Lawns uses core aeration by making holes in your lawn with hollow spikes. These hollow spikes remove "plugs" of dirt 3-4 inches in length and about the diameter of your thumb.
Some other benefits of aeration are:
Water absorption
Breaks up thatch
Loosens the soil allowing the root system to grow
We like to combine overseeding with aeration because the tiny holes in your lawn will provide the best surface contact for the seed which leads to higher germination rates. New grass growth will fill in what's already growing and create a thicker, healthier lawn. Overseeding coupled with aeration are the secret ingrediants for a great lawn.
Sutter Lawns provides GREAT property service and lawn care for the yards and lawns of Ankeny, Des Moines, Grimes, Johnston, Polk City, and the Polk County area!
Lawn & Yard Service Areas

Des Moines Metro Area
We provide the best lawn and yard care service to the great Des Moines Metro area. Some of the best yards and lawns we care and service for are found below. If your community isn't listed we would love to include it, so give us a call at (515) 402-3828
View Our Service Areas